Exhaust gases are a toxic workplace hazard in facilities like garages, fire stations, and service centers. Prolonged exposure to these gases results in dangerous consequences to both workers and customers alike, which is why OSHA regulates the levels of these fumes. Thus, safe removal of the exhaust is of utmost importance at all the aforementioned facilities. In addition to a standard single flexible exhaust hose, Y –assembly kits are commonly used as an accessory to allow for safe fume extraction from dual exhaust vehicles. Exhaust-Away provides exhaust hoses and accessories for all kinds of exhaust removal situations. Y-assembly kits are one of the most popular exhaust removal accessories offered by the company. This brief post discusses their key advantages and components.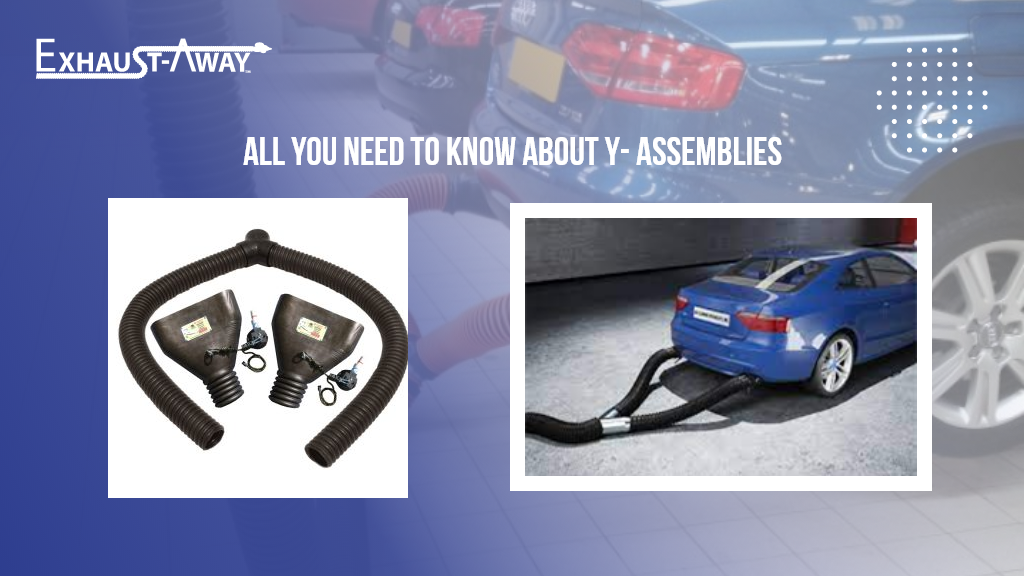 What are the components of Exhaust-Away's Y –Assembly Kits and how do they work?
Y-assemblies are designed for vehicles with dual exhaust pipes. The Y-assembly kits comprise – a Y connector, two tailpipe adapters, and two hoses. How do these constituents work? The following pointers will help you understand the same.
Tailpipe Adapters:Kits are available with straight, oval, or flush-mount (suction cup attached) tailpipe adapters. These adapters come with a chain and hook for safe connectivity. Constructed using EPDM rubber, they are available in various internal diameters. The dual flush mount tailpipe adapters feature a suction cup system and are designed for twin pipes.
Y-Connectors:Allows users to connect three different hoses, forming a Y assembly. One end is connected to the extraction system, while two ends are connected to dual exhaust pipes. They have internal threads that grip the exterior of the hoses.
Hoses:Kits include a pair of EPDM rubber hoses. You will connect the open end of the Y to your existing length of hose, or one purchased separately.
These components work together to allow for the safe removal of exhaust fumes from dual exhaust vehicles. It is important not to connect more than 20' of additional hose to a Y kit unless you have a fan-assisted system in place. You can build your own Y kit if you don't see a standard one that you like. Just get the Y size you need, a length of hose that you can cut in half, and whatever adapters will best fit your application.
To learn more, you can get in touch with the team of experts at the company to make the right selection for your application.