Exhaust hoses are among the most important accessories in garages and automotive facilities. These hoses help remove toxic gases and contaminants from garages. Although the hoses for a different size and fuel type of vehicles may look the same, they may differ in diameter, construction method, and material. If you have been considering car exhaust hoses, FlareLok® hoses can be the best choice. These hoses by Exhaust-Away® have been extremely popular and are offered in various lengths and diameters and can be equipped with adapters and other fittings. This post provides you with a brief overview of these hoses and their applications.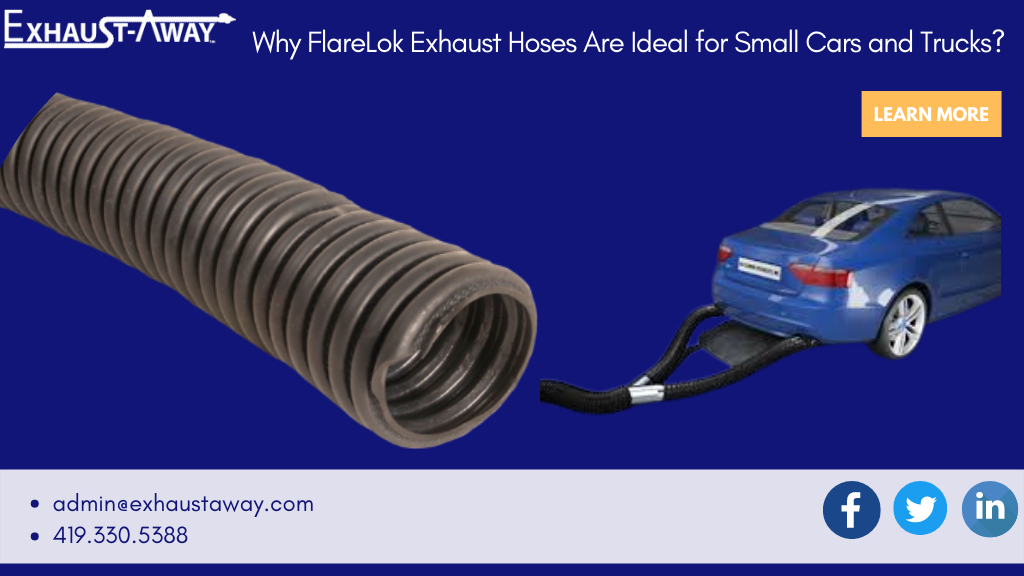 Features of FlareLok® Garage Exhaust Hose
How do FlareLok® garage exhaust hoses differ from regular hoses? The most visible difference lies in their design. These hoses possess flared ends that easily thread over the regular end of the second hose. This makes it easier to join two ends without a splice connector, thereby reducing the dependency on accessories. Further, these hoses have gained popularity due to their following features.
These hoses have been used for more than 70 years and are still in demand!
They are made of EPDM rubber, ensuring their robustness and reliable performance in light diesel and gasoline applications.
The hoses are 11 feet long and come with inner diameters of 2ʺ, 2.5ʺ, 3ʺ, and 4ʺ.
FlareLok® garage exhaust hoses can withstand being run over repeatedly without damage, so they are perfect for floor-level applications.
Like other Exhaust-Away® hoses, these can withstand temperatures up to 600 degrees Fahrenheit when used with a fan-assisted system.
The hoses must be used with the right adapter for excellent results, as they enable proper airflow.
When not in use, they can be disconnected easily and stored for long-term use.
Flare-Lok® garage exhaust hoses have been widely used for overhead, underground, and out-the-door systems for decades. In addition, they have been an integral part of vehicle exhaust systems, industrial exhaust systems, and fume exhaust systems in repair and garage shops.
You can get in touch with the team at Exhaust-Away® to discuss your specific exhaust removal requirements for cars and trucks. The experts at the company will happily assist you with the right selection and offer you more appropriate solutions for your exhaust removal problems. Exhaust-Away® stocks a broad inventory of exhaust hoses and their accessories, which makes it a one-stop solution for all your exhaust removal needs.