Garage exhaust hoses are an essential piece of equipment in the automobile repair industry. They are required to remove dangerous vehicle exhaust fumes from your facility. However, it is extremely important that you choose the correct hose for the application. Automobile repair and fire station facilities are subjected to high-temperature vehicle exhaust. Acknowledging all these critical requirements of exhaust hoses, Exhaust-Away offers high-quality ACT exhaust hoses for effective garage applications. To know more about Exhaust-Away's ACT exhaust hoses, keep reading further.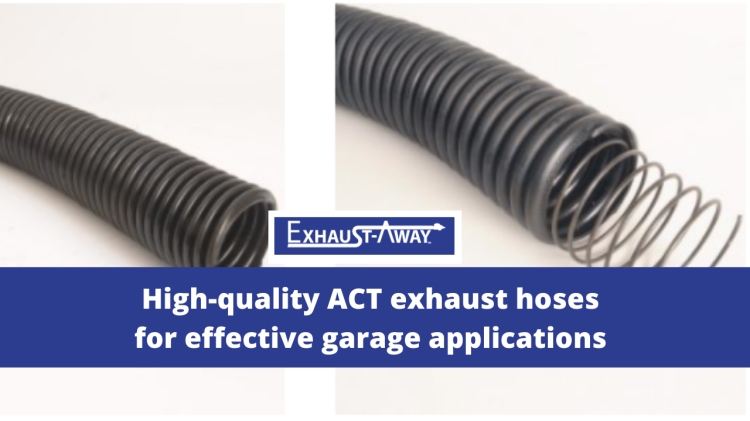 Types of ACT Exhaust Hoses Offered by Exhaust-Away
Exhaust-Away offers a wide range of ACT garage exhaust hoses. All these ACT exhaust hoses are made of a high temperature synthetic rubber, so these hoses can sustain temperatures up to 600°F when used with a fan assisted system. Exhaust-Away's range of ACT garage exhaust hoses are designed to fit with different sizes of vehicle exhaust systems. The hoses are manufactured with internal diameters (IDs) of 4″, 5″, and 6″ with standard lengths of 11′ and 20′.

Based on the requirements, you can choose suitable ID and lengths of exhaust hoses from the following list of products by Exhaust-Away.
Factors that Make ACT Exhaust Hoses Ideal for Your Applications
The following features of ACT exhaust hoses by exhaust away are why they are a suitable choice for your application.
The ACT hoses are designed to sustain a high temperature of 600°F when used with fan-assisted systems. Therefore, you can use those for vehicle repair, fume extraction, and fire stations.
The available option of 30" or 11' of wire eliminates the possibility of the hose kinking in vertical stack applications or where tight bends are required.
They are flexible yet highly durable.
These exhaust hoses are compatible with accessories like elbows, splice connectors, tailpipe adapters, stack adapters, Y-connectors, etc.
They are suitable for large trucks and diesel exhaust vehicles.